The Caesarea Development Company has established a smart command and control center that harnesses technological accelerators and smart systems to optimize services for the residents of the park and the settlement. The security center provides quick, efficient service with short response times to management centers operating in the area, from the Caesarea Smart Business Park management to park visitors to residents of the Caesarea settlement.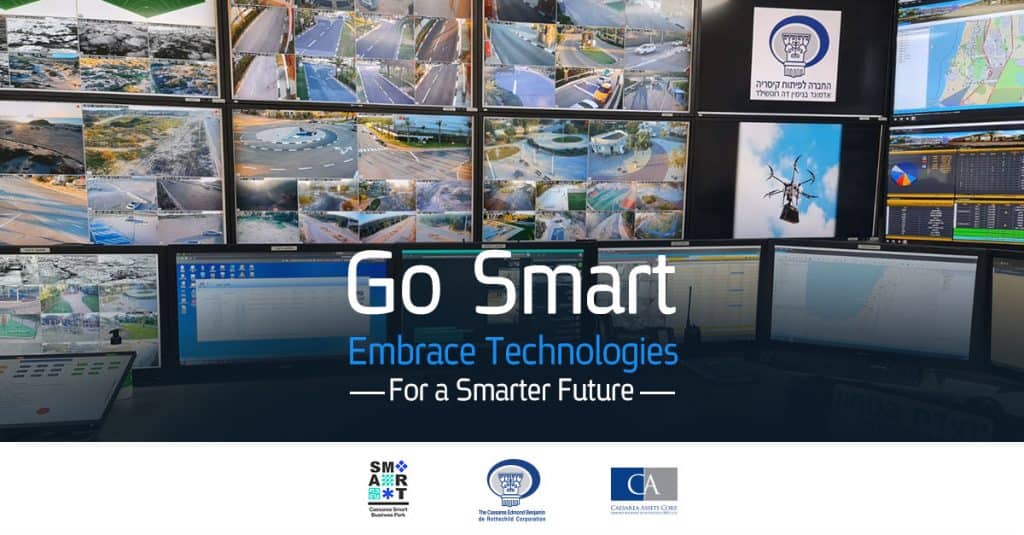 How does it work?
Smart security center– use of cameras and other sensors installed in the field for the purpose of monitoring public spaces in the park and in the settlement. The security system responds to all alerts received at the control center, whether for security or for municipal operation. 
Processing and tracking of all data collected in the control center– maintaining the principles of information security, database maintenance, and utilizing knowledge effectively to improve service for residents of the park and the settlement.
Air quality monitoring– this is an independent system that performs regular monitoring of specific parameters related to air quality. The park management is in direct and regular contact with the Ministry of the Environment and its various units, and transmits information about any irregular results.
Water meter systems– among the complex systems installed in the business park, the smart water meter systems are routed to the control center to warn of potential water leaks or malfunctions.
Public lighting control systems– warns of lighting malfunctions and also implements an energy-saving program by reducing electricity consumption during "dormant" hours, and reactivates lighting when vehicles enter the area.
Smart transportation system– monitors public transportation lines and displays real-time information about travel routes and arrival times- including those of the park's shuttle system.
Smart parking lots – a pilot for a smart parking system was recently completed, which offers quick assistance to park visitors for locating a parking space as well as orientation in the area.